Discover How Keyless Security Systems Improve Operational Efficiency and Give Commercial Office Spaces Complete Control
Despite uncertain times, flexible office space is forecasted to grow at an annual rate of 21.3% in 2021, with more companies than ever opting for flexible, multi-use, dynamic spaces that cater for a range of diverse business needs.
With a constantly changing community of users, flexible office operators are adapting their smart buildings to serve the masses, which have, in turn, created an entirely new set of challenges for access control management. 
As the way commercial office space continues to evolve, it's more vital than ever for the end-user to have full building autonomy. This includes gaining complete access control and having the ability to determine who's in your building at all times. Without this you leave your commercial space open to serious risks from intruders and outside threats.
At Opem Security, we offer a future-proofed, flexible security system that can be agile and adapt to the unique needs of your building. Read on to discover how a smart, keyless access control system benefits your commercial space.
Overcoming security challenges: what is access control?
Access control allows you to both grant and restrict access to physical space within your business or organisation. You can limit access from individual rooms to entire buildings all while keeping track of who is coming and going. 
The core aim of access control systems is to enhance space management, for the building team, helping to create improved user experience, while safeguarding the space and preventing intruders, damage, and the loss of equipment.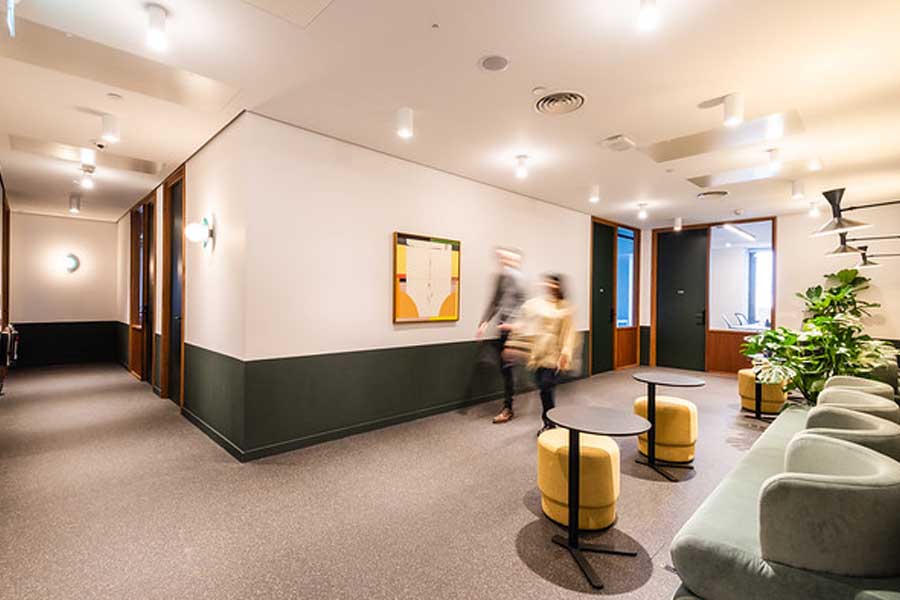 What is remote access control and how does it work?
Remote keyless entry systems, or 'smart locks', use wireless technologies like Bluetooth and WiFi to enable access control and provide remote lock management. Typically, smart locks use a key lock, a key card access control system, or a combination of access controls to lock and unlock your commercial space. 
Smart locks offer a simple yet effective form of access control that can be paired with security cameras, ultimately creating a secure environment for your workers. Keyless entry systems also integrate with mobile-friendly or cloud-based software to provide a flexible solution for businesses looking to maximise security and react swiftly to physical breaches. 
Both staff and customers can open doors with convenient and flexible credentials on their smart key card or by smartphone if needed. To learn about keyless entry systems in action, find out how we helped Office Space in Town fully integrate an electronic locking and control access software solution.
Continue reading to learn the benefits of going keyless and whether smart lock systems are more secure than their traditional lock and bolt counterparts.
Common access & security challenges facing commercial spaces
Without an ability to continuously monitor your building, you're far more susceptible to break-ins, unauthorised access breaches, or even information security threats. As well as that, lone workers may be exposed to unique risks without support from coworkers or supervisors to fall back on. 
Continuous security monitoring solutions give commercial office environments the visibility to identify vulnerabilities and attacks while supporting employees.
If physical keys get lost or fall into the wrong hands, how do you track who has them? Worse yet, if you have too many keys, it's practically impossible to keep track of who has them at any given time. If keys get lost, it's a costly and time-consuming process to have them replaced. Replacing keys means potentially having to change the locks every time someone leaves, opening your building up to severe access risks. 
With door access control systems, authorised personnel can deactivate lost key cards at a click of a button. More on that shortly. 
Inheriting outdated security systems
Inherited infrastructure, outdated software and inefficient security systems present a significant challenge for newer commercial office spaces. Having to take over older security systems and then identify vulnerabilities is vital, but often not an easy task. 
If you require a site survey and security audit, the specialist team at Opem Security are here to help. 
Integrating keyless access
Robust security is built into keyless entry door locks, from the physical lock to the enhanced monitoring capabilities. High-quality, professionally-fitted keyless entry door locks are completely safe and secure. 
Having just one front-end system for the user creates a seamless building experience. Not only do customers or tenants stand to benefit from an intuitive and user-friendly integrated smart access system, but building managers also enjoy a greater ability to manage multiple locations at once and customise access permissions with ease.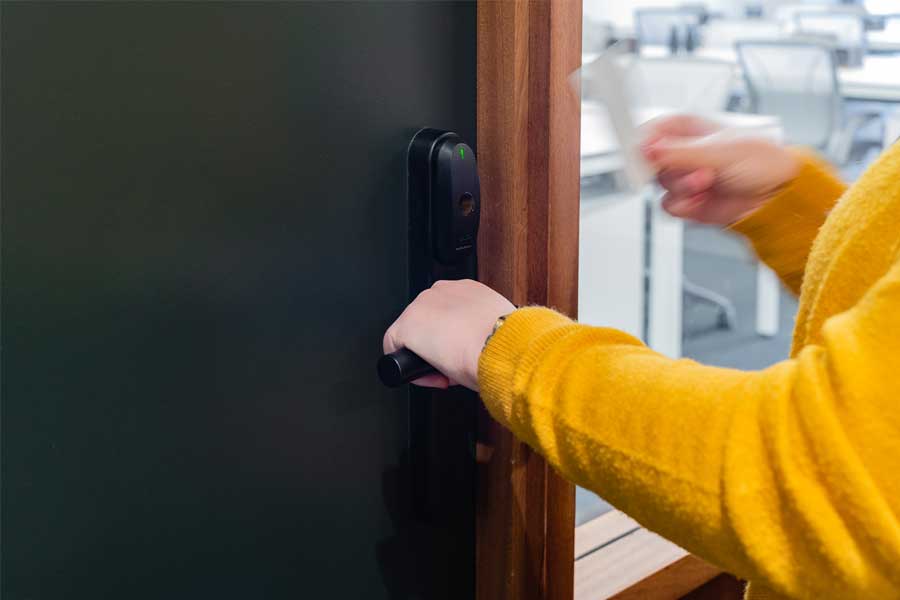 What are the benefits of going keyless with a full door access control system?
Key Free.

Physical keys can be lost, causing problems for the holder and increasing security risks. Remote access controls are reliable, easy to use, and allow for greater agility when managing and securing your commercial space.
Precise Monitoring Capabilities.

With keyless access control, you can keep track of who's entering and leaving your office environment every single time.
Easy Access For Authorised Personnel.

Keyless entry access is convenient, lightweight, cost-effective, efficient, and can even be personalised to fit your brand.
Greater Accessibility For People With Disabilities.

Keyless security systems are a great way to improve the inclusion of your commercial office space for anyone who may have difficulties with traditional keys.
Ready to find the solution?

Secure your commercial space with Opem Security
The core components of our service include installation, maintenance, out of hours remote monitoring, CCTV, and access control. 
When you choose Opem Security, you'll be opting for a world-class access control offering that operates alongside our partner Salto – who we are proudly a gold status Global partner. With door access control technology from Salto is highly-functional and malleable to fit your building security requirements. Flexible access control assets allow us to deliver agile and holistic security systems that exceed expectations every time.
We provide cutting-edge security technology that combines building schedules and two-point entry systems with swipe cards and door codes. Beyond the initial installation, we ensure all of your security assets are continuously well-maintained, and your security monitoring workforce is highly-trained with the essential skills.
Our expert team delivers a vast range of access control systems, from standalone single-door to enterprise-level onsite server-based/cloud-based with mobile phone technology, integrated fully in your system and always aligned with your budget.
We strive to provide security that prevents crime and keeps people safe by granting remote access control.
To find out more about how the Opem Security team can help you protect your commercial space, get in touch today.
Are you interested in our services?
Fill in your number below and we'll call you back as soon as we can.