Boutique office company, Office Space in Town, has selected Opem Security to install SALTO Systems to provide access control for its newest serviced office development in London, Blackfriars.
The company offers businesses and individuals flexible workspace solutions, providing serviced offices, co-working space, meeting rooms and virtual offices in London, Cardiff, Northampton, and Edinburgh.
Affectionately named the 'Happiness' building, this vibrant and quirky, new serviced office development is located in Tudor Street in the heart of London's prestigious Midtown district. The building has undergone an extensive £8.5 million refurbishment that has transformed it into affordable uniquely themed, high-spec luxury offices intended to help boost productivity and wellness in a professional, HQ quality standard office – created for those who appreciate style with a twist.
The building now incorporates over 475 workstations split over five floors, each with its own individual colour treatment. The building also boasts nine individually designed meeting rooms – each based upon the theme of 'what makes you happy' ranging from a quirky hot air balloon designed room, through to an aquatic haven, deep down 'under the sea'.
It is also the first building in the UK to feature Clear View Dynamic Glass – intelligent, electrochromic windows that automatically tint to maximise natural light and reduce heat and glare. The building also boasts the most-up to date technology, enabling it to achieve a Wired Score rating of Platinum, high standard soundproofing and individually controlled air conditioning, to support clients' growth and business needs.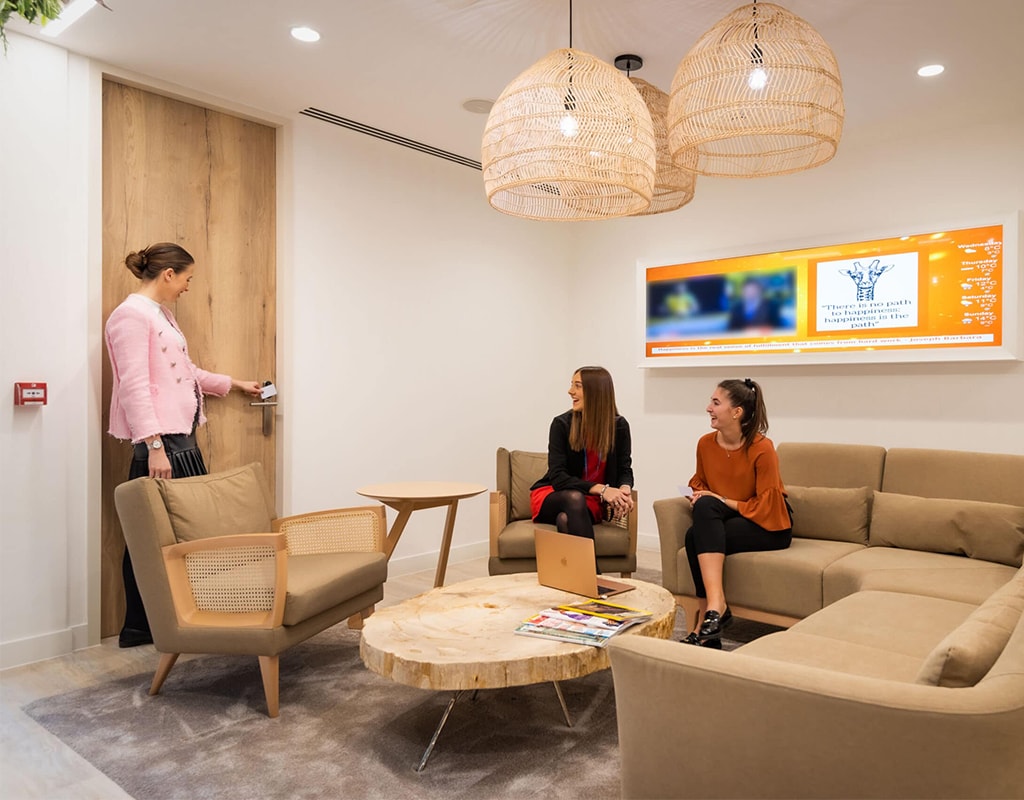 Sara Chegwidden, Chief Operating Officer (COO) for Opem Security says.
SALTO's SPACE Smart access control technology platform is a fully integrated electronic locking and software solution that brings seamless access to every door in any building in an efficient, safe and secure accessible way.
It's tailored to the customer's needs and building operating requirements and designed to give users ultimate freedom of choice regarding system layout, type and number of access points as well as level of security. It enables users to incorporate the functionalities they need now, and upgrade accordingly as and when their needs grow.
Security risks related to lost keys are completely eliminated and system operators can manage every door and user access plan from powerful web-based management software. Both staff and customers can open doors with convenient and flexible credentials; smart key card or by smart phone if required. There are no costs from lock replacement caused by lost keys, which saves valuable time and resources across the organisation.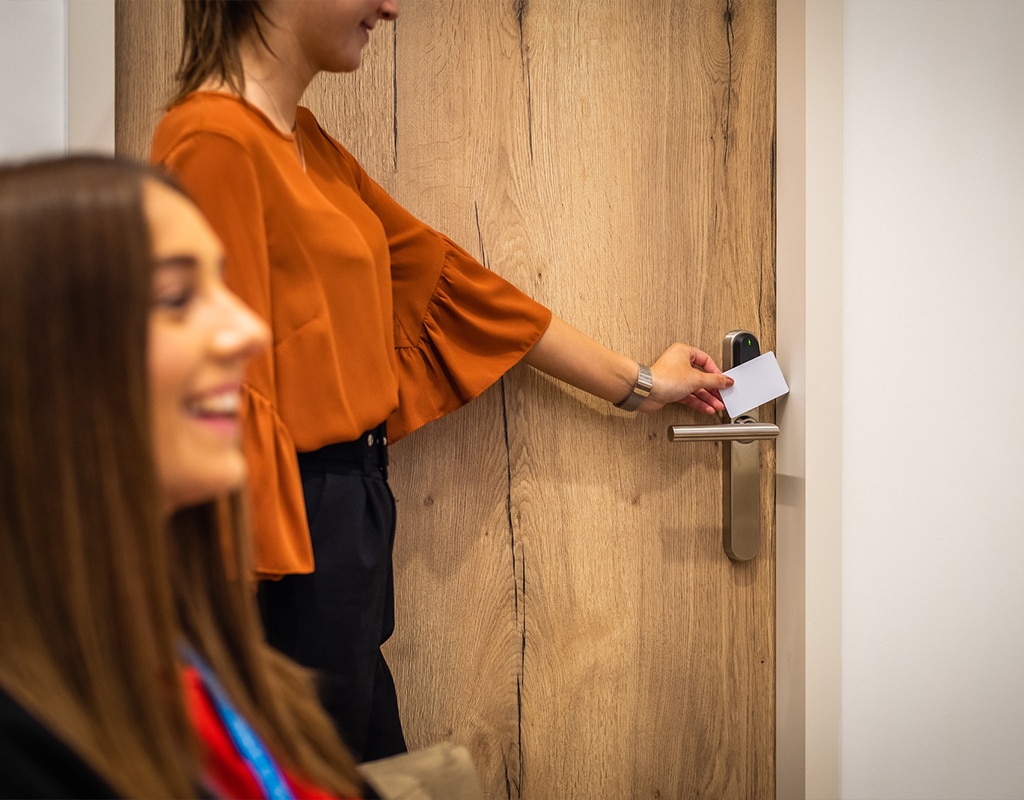 The new security system is now installed, with a total of 88 doors across a mix of communal doors, offices, meeting rooms and exit doors secured by XS4 Original narrow body smart handle sets and SALTO wall readers.
Controlling access plays an important role in the security of any building and SALTO's Innovative, wire-free technology allows stand-alone electronic locks to read, receive and write information via their operating smart cards. And, if the client chooses, they can also incorporate the use of JustIN Mobile technology making it easy and secure to incorporate smart phones as a part of their access control solution.
Office Space in Town's Developments Director, Simon Eastlake, comments.
Jason Pelham, Founder and Chief Executive Officer (CEO)for Opem Security concludes.
SALTO Systems revolutionised access control with the introduction of the SALTO Virtual Network SVN data-on-card technology and the battery-operated wire-free electronic lock range in 2001. For nearly 20 years SALTO has been synonymous with innovative solutions, including stand-alone, cloud-based and mobile applications that set new standards in security, manageability, flexibility and design that bring real-world benefits to virtually any type of door. Across a broad range of industries and applications, SALTO is widely recognised as a global market leader in electronic access control solutions.
For press and corporate-related matters, please contact the SALTO Systems Marketing and Communication media relations department. E: k.carey@saltosystems.com | T: 07787 153150
Discuss Your Requirements
If you're looking for advice on your access control or want a free quote, get in touch with a member of the team today. We're always happy to help.