At Opem Security, we understand that it's our people that set us apart and enables us to create diverse security systems, helping to safeguard properties and keep people feeling safe. That's why we wanted to help you get to know the individuals that make it happen. 
This week we caught up with Opem Security's, Chief Operations Officer, Sara Chegwidden. Sara is recognised across the industry as an innovative, and competent figurehead whose experience, operational efficiency, and commitment to project delivery, has led to improved project completion times and the delivery of more cost-effective solutions. Her ability to streamline processes has led to increased company profitability and has allowed Opem Security to nurture and maintain robust and lasting relations with leading contractors, serviced operators, and landlords nationwide.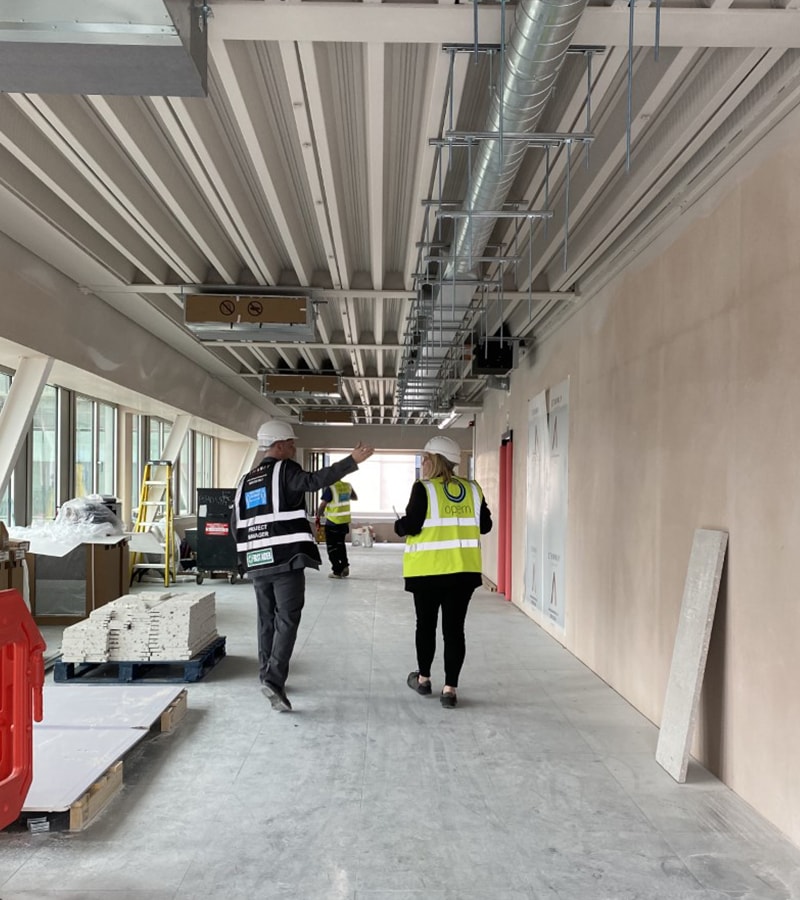 Read on, to gain some insights into Sara's day to day at Opem Security.
Tell me about your background and how you came to work for Opem Security
I have predominantly worked in the hotel and hospitality sector, as well as for leading flexible office operator, the Argyle Club. For over a decade I have performed a range of operations and management roles but I felt ready for a change of pace and a new challenge. When I came across the position at Opem it ticked a lot of my boxes and offered a unique position with huge growth and development potential. 
Tell me about your role within the company and your overall objectives
My role is to oversee and implement effective operational delivery across the business. I support and enhance strategic company decisions to promote and achieve Opem's overall objectives and vision. 
Describe Opem in a sentence 
Opem Security is an electronic, customer-centric, security company who specialise in designing bespoke security solutions. Our core services include the installation of CCTV and access control as well as remote monitoring, and service maintenance. We operate predominantly in London, delivering first-class security solutions to commercial properties.
It's the people that make Opem Security so special. The majority of the team, myself included comes from a flexible office background and that brings an intimate understanding of our clients business models and requirements. The team is incredibly passionate about helping clients achieve their security objectives and I think that comes from the level of ownership and autonomy that the team is given. It takes a lot to recruit the right people for each of the departments, but each and every one of our team is worth their weight in gold and I'm very proud of the work that we do. 
Another thing that makes Opem different is the company's drive for innovation. We have a flat management structure, that allows for new ideas, technology, and developments to be reviewed, tested, and approved. Opem takes the time to understand market demand and this helps to keep us agile and remain at the forefront of security innovation. 
What's been your Opem career highlight?
There have been so many amazing moments with Opem. Getting promoted to COO was a huge career milestone. Another memorable movement was winning the Opem Super Star Award in December 2019. I won a very generous tip to Dubai for two. It was absolutely amazing and a once in a lifetime experience.
What's the best part of your job?
I would have to say both the first day on the job and the last. It's always exciting when taking on new installation projects and working through challenges, and collaborating and strategizing on how to achieve the end result. There's always the feeling of excitement and buzz about the team as well as a sense of solidarity. Equally, it's a fantastic feeling seeing the end result and feeling like you've contributed to keeping people safe
What's your biggest challenge? 
Managing people's expectations can be a challenge. Often there can be project delays that are a result of unexpected occurrences that are completely out of your hands but can set a project back. This can have an impact on our timelines, which can then affect the budget due to scheduling. Working around this and finding solutions to minimise disruption brings its complexities. I never shy away from adversity and I enjoy problem-solving.
What's the biggest lesson you've learnt since joining Opem?
I would probably say patience and prioritising. There are lots of moving parts with overseeing new projects as well as managing our ever-growing portfolio of clients and their buildings. At times this can lead to a high level of pressure, but with experience I've learnt to take a breath and look at the whole picture, working with facts to achieve effective solutions.  
What's the future for Opem Security? 
There has been so much development and growth in the short time that I have been with the company so I hope for more of the same. The pandemic has been the cause of so much uncertainty and it's difficult to know how that might affect businesses, partners and clients in the long term. That being said, keeping people safe and protecting assets will always be a priority for business, so when things return to normal I anticipate healthy growth and expansion.